Ukraine National Anthem Lyrics – Download Free Lyrics PDF & Ringtone Here
"Shche ne Vmerla Ukrayiny ni Slava, ni volya", also known by its official title of "State Anthem of Ukraine" or by its shortened form "Shche ne vmerla Ukrayina", is the National Anthem of Ukraine. Its music was officially adopted by Ukraine's Verkhovna Rada on 15 January 1992.
Here One can find Ukraine National Anthem Lyrics Pdf, National Anthem of Ukraine Lyrics in Hindi & English, Ukraine National Anthem Ringtone, Ukraine National Anthem Mp3 Download.
Ukraine National Anthem HD Wall Paper Free Download
]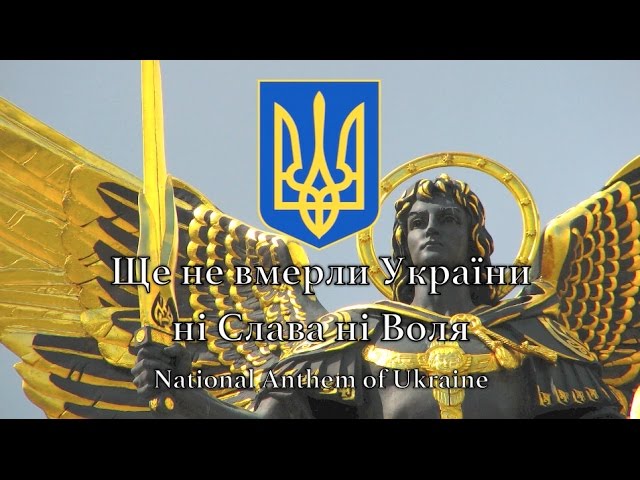 National Anthem of Ukraine Information:
Lyricist

 

Pavlo Chubynsky

Music

 

Mykhailo Verbytsky,

Adopted
1992
Official Language
Ukrainian
Ukraine National Anthem Lyrics in Ukrainian:
Ще не вмерла України і слава, і воля,
Ще нам, браття молодії, усміхнеться доля.
Згинуть наші воріженьки, як роса на сонці.
Запануєм і ми, браття, у своїй сторонці.
Душу й тіло ми положим за нашу свободу,
І покажем, що ми, браття, козацького роду.
---
Ukraine
National Anthem Lyrics in English:
Nay, thou art not dead, Ukraine, see, thy glory's born again,
And the skies, O brethren, upon us smile once more!
As in Springtime melts the snow, so shall melt away the foe,
And we shall be masters in our own home.
𝄆 Soul and body, yea, our all, offer we at freedom's call
We, whose forebears, and ourselves, proud Cossacks are!
FOR LATEST ENGLISH SONG LYRICS CLICK HERE.
---
Note: If you find any mistakes in the lyrics, Please let us know below comment section. We will very thankful to you guys. Do you believe 'Sharing is Caring'? If you Believe than please share these lyrics with your friends, family members and also with your loved ones so they can also enjoy it.