Sweden National Anthem Lyrics – Download Free Lyrics PDF & Ringtone Here
"Du gamla, du fria" is the de facto National Anthem of Sweden. It was originally named "Sång till Norden", but the incipit has since been adopted as the title.
Here One can find Sweden National Anthem Lyrics Pdf, National Anthem of Sweden Lyrics in Swedish & English, Sweden National Anthem Ringtone, Sweden National Anthem Mp3 Download.
Sweden National Anthem HD Wall Paper Free Download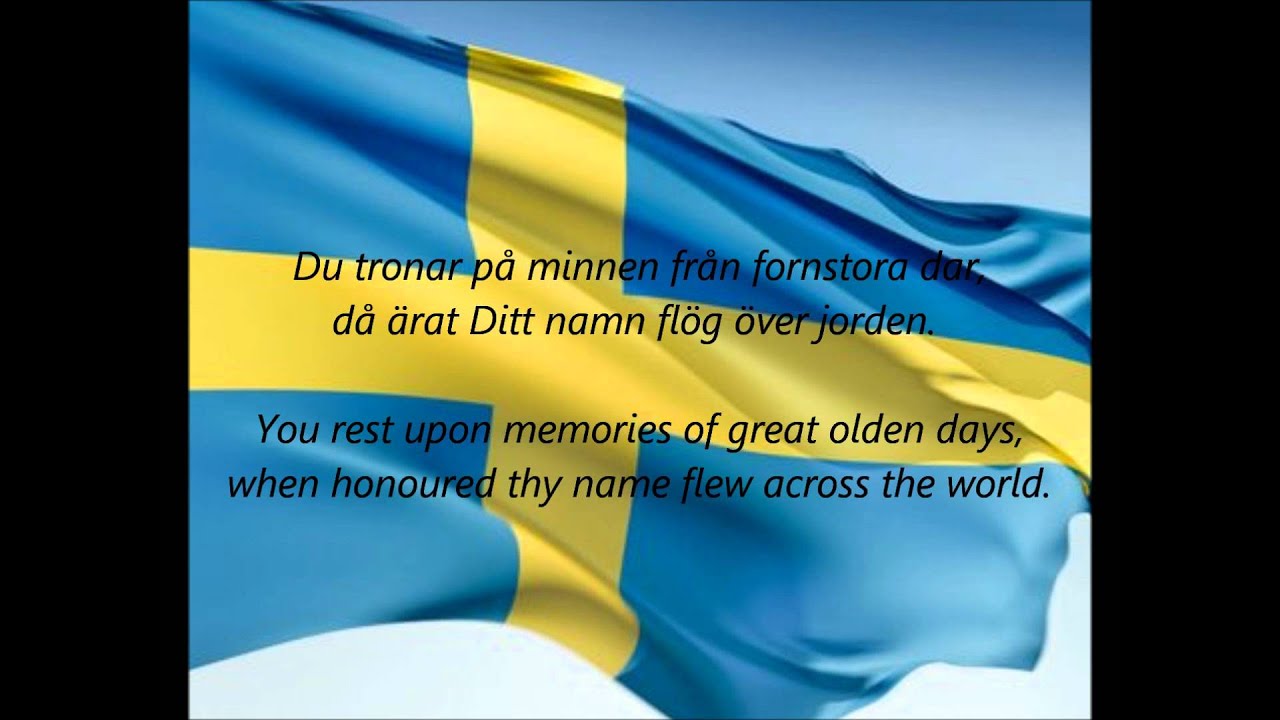 National Anthem of Sweden Information:
Lyricist
Richard Dybeck
Music

 

Old Swedish folk music

Adopted
1844
Official Language
Swedish
Sweden National Anthem Lyrics in Swedish:
Du gamla, Du fria, Du fjällhöga nord
Du tysta, Du glädjerika sköna!
Jag hälsar Dig, vänaste land uppå jord,
𝄆 Din sol, Din himmel, Dina ängder gröna. 𝄇
Du tronar på minnen från fornstora da'r,
då ärat Ditt namn flög över jorden.
Jag vet att Du är och Du blir vad Du var.
𝄆 Ja, jag vill leva, jag vill dö i Norden. 𝄇
Jag städs vill dig tjäna, mitt älskade land,
dig trohet till döden vill jag svära.
Din rätt skall jag värna med håg och med hand,
𝄆 din fana, högt den bragderika bära. 𝄇
Med Gud skall jag kämpa för hem och för härd
för Sverige, den kära fosterjorden.
Jag byter Dig ej, mot allt i denna värld
𝄆 Nej, jag vill leva jag vill dö i Norden.
---
Sweden
National Anthem Lyrics in English:
Thou ancient, thou glorious, thou alpcrowned North,
Where freeborn and happy hearts are beating!
We hail thee, thou fairest of lands on the earth,
𝄆 Thy sun, thy skies, thy flow'ry valleys greeting! 𝄇
How proudly we dwell on thy great deeds of yore,
What time thy name was famed in story,
Thy children still are as valiant as before:
𝄆 In thee I'll live and die, thou land of glory! 𝄇
Forever to thee be my loyalty,
Unto my grave I shall serve thee,
With heart and hand thine right defend,
𝄆 Thy banner sternly gleaming advance! 𝄇
God willing, our home and hearth sustain!
Our loved native Northland remains!
No other clime takes after my heart,
𝄆 From thee I shall ne'er depart!
FOR LATEST ENGLISH SONG LYRICS CLICK HERE.
---
Note: If you find any mistakes in the lyrics, Please let us know below comment section. We will very thankful to you guys. Do you believe 'Sharing is Caring'? If you Believe than please share these lyrics with your friends, family members and also with your loved ones so they can also enjoy it.