Montenegro National Anthem Lyrics – Download Free Lyrics PDF & Ringtone Here
"Oj, svijetla majska zoro" (Montenegrin Cyrillic: "Ој, свијетла мајска зоро", "Oh, bright dawn of May") is the National Anthem of Montenegro adopted in 2004. Before its adoption, it was a popular folk song with many variations of its text. The oldest one is dated to the 2nd half of the 19th century, known as "Oh, Bright Dawn of Heroism, oh!", a popular Montenegrin folk song.
Here One can find Montenegro National Anthem Lyrics Pdf, National Anthem of Montenegro Lyrics in Montenegrin & English, Montenegro National Anthem Ringtone, Montenegro National Anthem Mp3 Download.
Montenegro National Anthem HD Wall Paper Free Download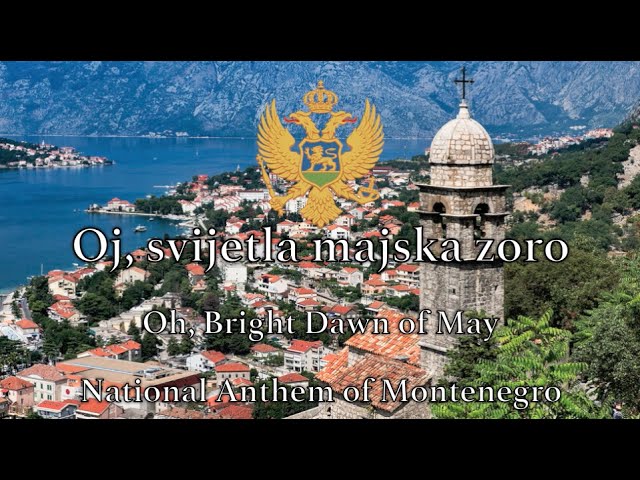 National Anthem of Montenegro Information:
| | |
| --- | --- |
| Lyricist | Unknown |
| Music | Unknown |
| Adopted | 2004 |
| Official Language | Montenegrin |
Montenegro National Anthem Lyrics in Montenegrin:
Oj svijetla majska zoro,
Majko nasa Crna Goro,
Sinovi smo tvog stijenja
I cuvari tvog postenja.
Volimo vas, brda tvrda,
I stravicne vase klance
Koji nikad ne poznase
Sramotnoga ropstva lance.
Dok lovcenskoj nasoj misli
Nasa sloga daje krila,
Bice gorda, bice slavna
Domovina nasa mila.
Rijeka ce nasih vala,
Uskacuci u dva mora,
Glas nositi okeanu,
Da je vjecna Crna Gora.
---
Montenegro
National Anthem Lyrics in English:
O the bright dawn of May
Montenegro our mother
We are sons of your aspires
And your honours we are keepers.
We love the hard mountains
and their eerie gorges deep
that had never to endure
the shameful chains of slavery.
While to the ideals of Lovæen
our concordance shall grant the wings,
it shall brought the pride and glory
to our beloved homeland.
The river of our waves,
that enter the two seas,
shall to ocean guide the voice
Montenegro is eternal.
FOR LATEST ENGLISH SONG LYRICS CLICK HERE.
---
Note: If you find any mistakes in the lyrics, Please let us know below comment section. We will very thankful to you guys. Do you believe 'Sharing is Caring'? If you Believe than please share these lyrics with your friends, family members and also with your loved ones so they can also enjoy it.