Maldives National Anthem Lyrics – Download Free Lyrics PDF & Ringtone Here
"Qaumii Salaam" (Dhivehi: ޤައުމީ ސަލާމް; National Salute) is the current National Anthem of the Maldives. The lyrics were written by Muhammad Jameel Didi in 1948, and the melody was composed by Sri Lankan maestro Pandith Amaradeva in 1972.
Here One can find Maldives National Anthem Lyrics Pdf, National Anthem of Maldives Lyrics in Dhivehi & English, Maldives National Anthem Ringtone, Maldives National Anthem Mp3 Download.
Maldives National Anthem HD Wall Paper Free Download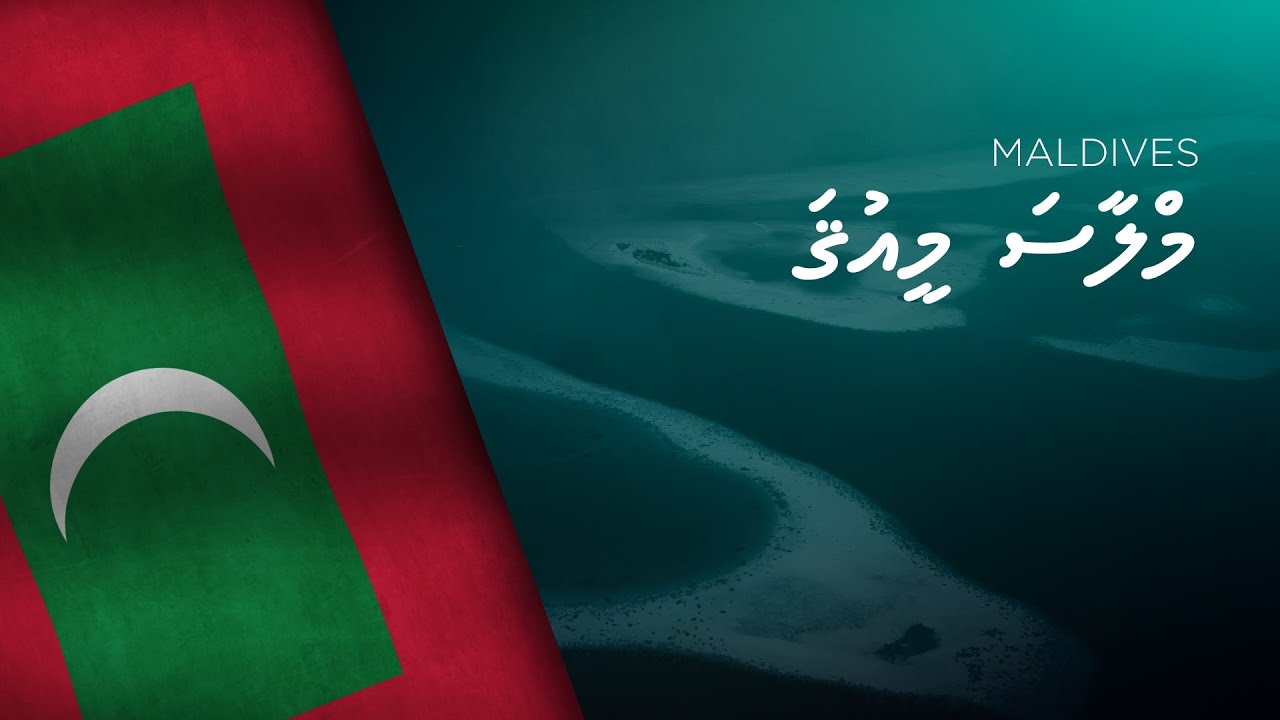 National Anthem of Maldives Information:
| | |
| --- | --- |
| Lyricist | Muhammad Jameel Didi |
| Music | Pandith Amaradeva |
| Adopted | 2019 |
| Official Language | Dhivehi |
Maldives National Anthem Lyrics in Dhivehi:
ޤައުމީ މިއެކުވެރިކަން މަތީ ތިބެގެން ކުރީމެ ސަލާމް
ޤައުމީ ބަހުން ގިނަހެޔޮ ދުޢާ ކުރަމުން ކުރީމެ ސަލާމް
ޤައުމީ ނިޝާނަށް ޙުރުމަތާއެކު ބޯލަނބައި ތިބެގެން
އައުދާނަކަން ލިބިގެން އެވާ ދިދައަށް ކުރީމެ ސަލާމް
ނަސްރާ ނަސީބާ ކާމިޔާބުގެ ރަމްޒަކަށް ހިމެނޭ
ފެއްސާއި ރަތާއި ހުދާ އެކީ ފެނުމުން ކުރީމެ ސަލާމް
ފަޚްރާ ޝަރަފް ގައުމަށް އެހޯދައިދެއްވި ބަތަލުންނަށް
ޒިކްރާގެ މަތިވެރި ޅެންތަކުން އަދުގައި ކުރީމެ ސަލާމް
ދިވެހީންގެ އުންމެން ކުރި އަރައި ސިލްމާ ސަލާމަތުގައި
ދިވެހީންގެ ނަން މޮޅުވުން އަދައި ތިބެގެން ކުރީމެ ސަލާމް
މިނިވަންކަމާ މަދަނިއްޔަތާ ލިބިގެން މިޢާލަމުގާ
ދިނިގެން ހިތާމަތަކުން ތިބުން އެދިގެން ކުރީމެ ސަލާމް
ދީނާއި ވެރިންނަށް ހެޔޮހިތުން ހުރުމަތް އަދާކުރަމުން
ސީދާ ވަފާތެރިކަންމަތީ ތިބެގެން ކުރީމެ ސަލާމް
ދައުލަތުގެ އަބުރާ ޢިއްޒަތާ މަތިވެރިވެގެން އަބަދަށް
އައުދާނަވުން އެދި ހެޔޮދުޢާ ކުރަމުން ކުރީމެ ސަލާމް
---
Maldives
National Anthem Lyrics in English:
We salute you, o Homeland, in unity
With an abundance with well-wishes in our very own tongue
Bowing our heads to your crescent moon and star
We salute the mighty red, white and green;
Victory and good fortune be its alone
With our bright colours streaming in the air, we hail our buoyant flag.
To those heroes who sought out honour and pride for the nation
We give salute today in auspicious verses of remembrance.
May there be fame and good weal for Maldivia land
And Maldivians' name become grand
We wish for their freedom and progress in this world
And for their freedom from sorrows, and thus we salute.
With full respect and heartfelt blessing towards religion and our leaders,
We salute you in uprightness and truth.
May the State ever have auspicious honour and respect.
With good wishes for your continuing might, we salute you.
FOR LATEST ENGLISH SONG LYRICS CLICK HERE.
---
Note: If you find any mistakes in the lyrics, Please let us know below comment section. We will very thankful to you guys. Do you believe 'Sharing is Caring'? If you Believe than please share these lyrics with your friends, family members and also with your loved ones so they can also enjoy it.