Liechtenstein National Anthem Lyrics – Download Free Lyrics PDF & Ringtone Here
"Oben am jungen Rhein" ("High on the young Rhine") is the National Anthem of Liechtenstein. Written in the 1850s, it is set to the melody of the British anthem, "God Save the King/Queen", which in the 19th century had been used for a number of anthems of German-speaking nations, including those of Prussia, Bavaria, Saxony, and Switzerland.
Here One can find Liechtenstein National Anthem Lyrics Pdf, National Anthem of Liechtenstein Lyrics in German & English, Liechtenstein National Anthem Ringtone, Liechtenstein National Anthem Mp3 Download.
Liechtenstein National Anthem HD Wall Paper Free Download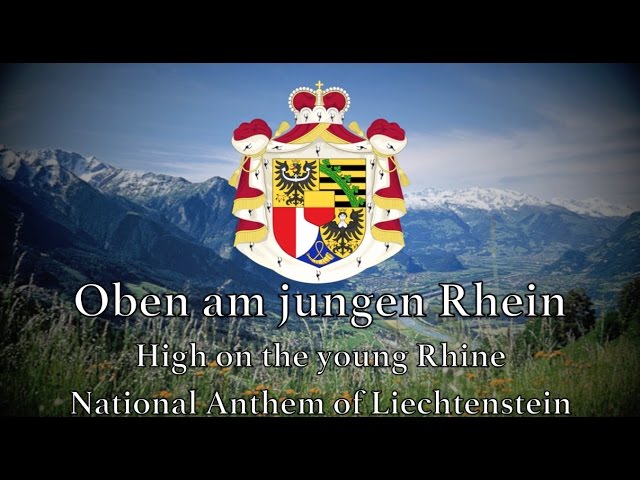 National Anthem of Liechtenstein Information:
| | |
| --- | --- |
| Lyricist | Jakob Josef Jauch |
| Music | Unknown composer |
| Adopted | 1870 |
| Official Language | German |
Liechtenstein National Anthem Lyrics in German:
Oben am jungen Rhein
Lehnet sich Liechtenstein
An Alpenhöh'n.
Dies liebe Heimatland,
Das teure Vaterland,
Hat Gottesweise Hand
Für uns erseh'n.
Hoch lebe Liechtenstein
Blühend am jungen Rhein,
Glücklich und treu.
Hoch leb' der Fürst vom Land,
Hoch unser Vaterland,
Durch Bruderliebe-Band
Vereint und frei.
---
Liechtenstein
National Anthem Lyrics in English:
High above the young Rhine
Lies Liechtenstein, resting
On Alpine heights.
This beloved homeland,
This dear fatherland
Was chosen for us by
God's wise hand.
Long live Liechtenstein,
Blossoming on the young Rhine,
Happy and faithful!
Long live the Prince of the Land,
Long live our fatherland,
United by brotherly bonds and free!
FOR LATEST ENGLISH SONG LYRICS CLICK HERE.
---
Note: If you find any mistakes in the lyrics, Please let us know below comment section. We will very thankful to you guys. Do you believe 'Sharing is Caring'? If you Believe than please share these lyrics with your friends, family members and also with your loved ones so they can also enjoy it.