Laos National Anthem Lyrics – Download Free Lyrics PDF & Ringtone Here
"Pheng Sat Lāo" (Lao: ເພງຊາດລາວ, '"Hymn of the Lao People"') is the National Anthem of the Lao People's Democratic Republic. Dr. Thongdy Sounthonevichit composed the music and wrote the lyrics in 1941. It was adopted as the national anthem of the Kingdom of Laos in 1945.
Here One can find Laos National Anthem Lyrics Pdf, National Anthem of Laos Lyrics in Lao & English, Laos National Anthem Ringtone, Laos National Anthem Mp3 Download.
Laos National Anthem HD Wall Paper Free Download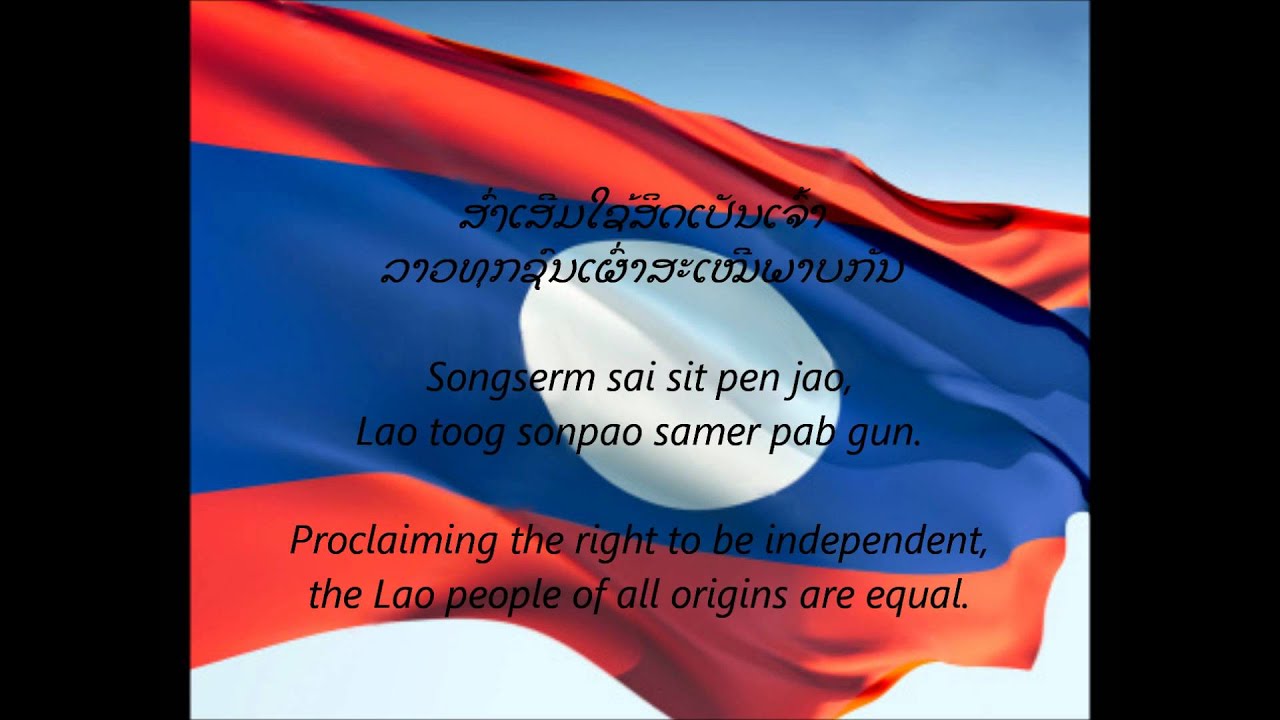 National Anthem of Laos Information:
| | |
| --- | --- |
| Lyricist | Sisana Sisane |
| Music | Thongdy Sounthonevichit |
| Composer  | Thongdy Sounthonevichit |
| Adopted | 1945 |
| Official Language | Lao |
Laos National Anthem Lyrics in Lao:
ຊາດລາວຕັ້ງແຕ່ໃດມາ
ລາວທຸກທົ່ວຫນ້າເຊີດຊູສຸດໃຈ
ຮ່ວມແຮງຮ່ວມຈິດຮ່ວມໃຈ
ສາມັກຄີກັນເປັນກຳລັງດຽວ
ເດັດດ່ຽວພ້ອມກັນກ້າວຫນ້າ
ບູຊາຊູກຽດຂອງລາວ
ສົ່ງເສີມໃຊ້ສິດເປັນເຈົ້າ
ລາວທຸກຊົນເຜົ່າສະເໝີພາບກັນ
ບໍ່ໃຫ້ພວກຈັກກະພັດ
ແລະພວກຂາຍຊາດເຂົ້າມາລົບກວນ
ລາວທັງມວນຊູເອກະລາດ
ອິດສະຫລະພາບຂອງຊາດລາວໄວ້
ຕັດສິນໃຈສູ້ຊີງເອົາໄຊ
ພາຊາດກ້າວໄປສູ່ຄວາມວັດທະນາ
---
Laos
National Anthem Lyrics in English:
For all time, the Lao people
Have glorified their Fatherland,
United in heart,
Spirit and vigor as one.
Resolutely moving forwards,
Respecting and increasing the dignity of the Lao people
And proclaiming the right to be their own masters.
The Lao people of all origins are equal
And will no longer allow imperialists
And traitors to harm them.
The entire people will safeguard the independence
And the freedom of the Lao nation.
They are resolved to struggle for victory
In order to lead the nation to prosperity.
FOR LATEST ENGLISH SONG LYRICS CLICK HERE.
---
Note: If you find any mistakes in the lyrics, Please let us know below comment section. We will very thankful to you guys. Do you believe 'Sharing is Caring'? If you Believe than please share these lyrics with your friends, family members and also with your loved ones so they can also enjoy it.