Ireland National Anthem Lyrics – Download Free Lyrics PDF & Ringtone Here
"Amhrán na bhFiann", called "The Soldier's Song" in English, is Ireland's National Anthem. The music was composed by Peadar Kearney and Patrick Heeney, the original English lyrics by Kearney, and the Irish-language translation, now usually heard, by Liam Ó Rinn.
Here One can find Ireland National Anthem Lyrics Pdf, National Anthem of Ireland Lyrics in Irish & English, Ireland National Anthem Ringtone, Ireland National Anthem Mp3 Download.
Ireland National Anthem HD Wall Paper Free Download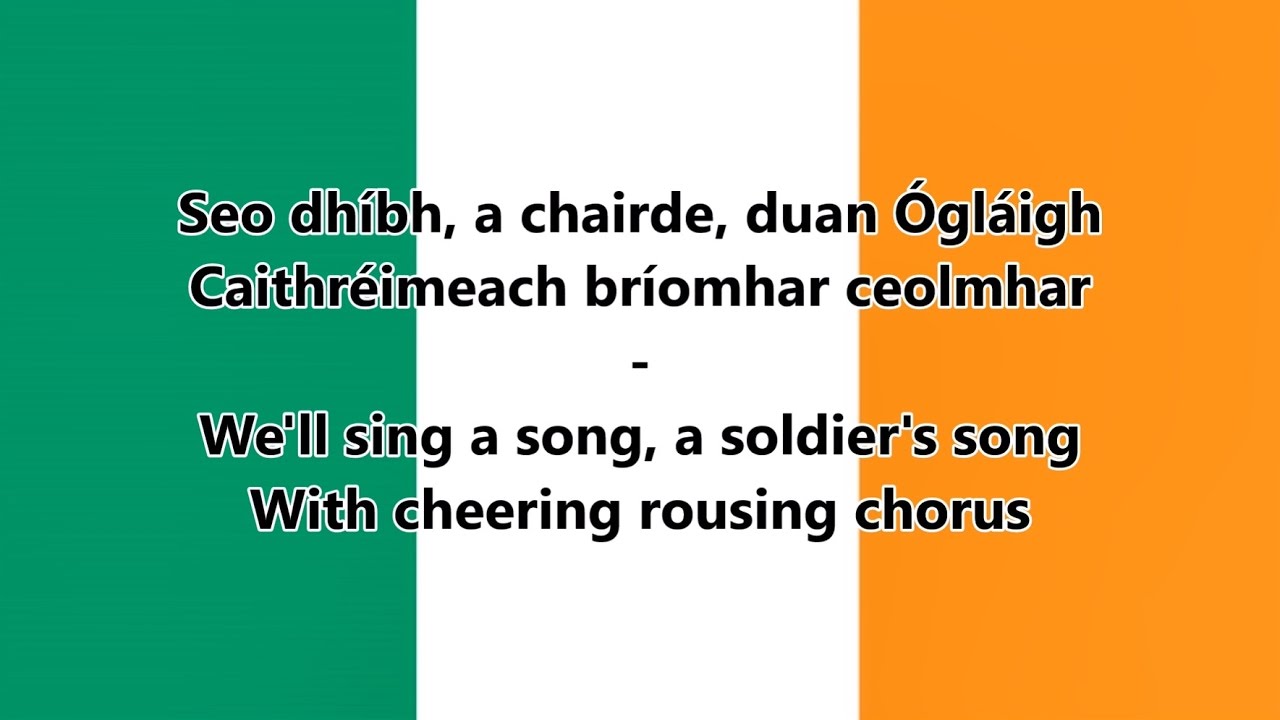 National Anthem of Ireland Information:
| | |
| --- | --- |
| Lyricist | Peadar Kearney, Liam Ó Rinn |
| Music | Patrick Heeney |
| Adopted | 1926 |
| Official Language | Irish, English |
Ireland National Anthem Lyrics in Irish:
I
Seo dhíbh, a chairde, duan Ógláigh
Caithréimeach bríomhar ceolmhar
Ár dtinte cnámh go buacach táid
'S an spéir go mín réaltógach
Is fonnmhar faobhrach sinn chun gleo
'S go tiúnmhar glé roimh thíocht don ló
Fé chiúnas chaomh na hoíche ar seol
Seo libh, canaídh Amhrán na bhFiann.
Curfá
II
Cois bánta réidhe, ar ardaibh sléibhe
Ba bhuadhach ár sinsir romhainn
Ag lámhach go tréan fén sárbhrat séin
'Tá thuas sa ghaoth go seolta
Ba dhúchas riamh dár gcine cháidh
Gan iompáil siar ó imirt áir
'S ag siúl mar iad i gcoinne námhad
Seo libh, canaídh Amhrán na bhFiann
Curfá
III
A bhuíon nach fann d'fhuil Ghaeil is Gall
Sin breacadh lae na saoirse
Tá sceimhle 's scanradh i gcroíthe námhad
Roimh ranna laochra ár dtíre
Ár dtinte is tréith gan spréach anois
Sin luisne ghlé sa spéir anoir
'S an bíobha i raon na bpiléar agaibh
Seo libh, canaídh Amhrán na bhFiann
Curfá
---
Ireland
National Anthem Lyrics in English:
I
We'll sing a song, a soldier's song
With cheering, rousing chorus
As round our blazing fires we throng
The starry heavens o'er us
Impatient for the coming fight
And as we wait the morning's light
Here in the silence of the night
We'll chant a soldier's song
Chorus
II
In valley green, or towering crag
Our fathers fought before us
And conquered 'neath the same old flag
That's proudly floating o'er us
We're children of a fighting race
That never yet has known disgrace
And as we march, the foe to face
We'll chant a soldier's song
Chorus
III
Sons of the Gael! Men of the Pale!
The long-watched day is breaking
The serried ranks of Innisfail
Shall set the tyrant quaking
Our camp fires now are burning low
See in the east a silv'ry glow
Out yonder waits the Saxon foe
So chant a soldier's song
Chorus
FOR LATEST ENGLISH SONG LYRICS CLICK HERE.
---
Note: If you find any mistakes in the lyrics, Please let us know below comment section. We will very thankful to you guys. Do you believe 'Sharing is Caring'? If you Believe than please share these lyrics with your friends, family members and also with your loved ones so they can also enjoy it.