France National Anthem Lyrics – Download Free Lyrics PDF & Ringtone Here
"La Marseillaise" is the National Anthem of France. The song was written in 1792 by Claude Joseph Rouget de Lisle in Strasbourg after the declaration of war by France against Austria, and was originally titled "Chant de guerre pour l'Armée du Rhin".
Here One can find France National Anthem Lyrics Pdf, National Anthem of France Lyrics in French & English, France National Anthem Ringtone, France National Anthem Mp3 Download.
France National Anthem HD Wall Paper Free Download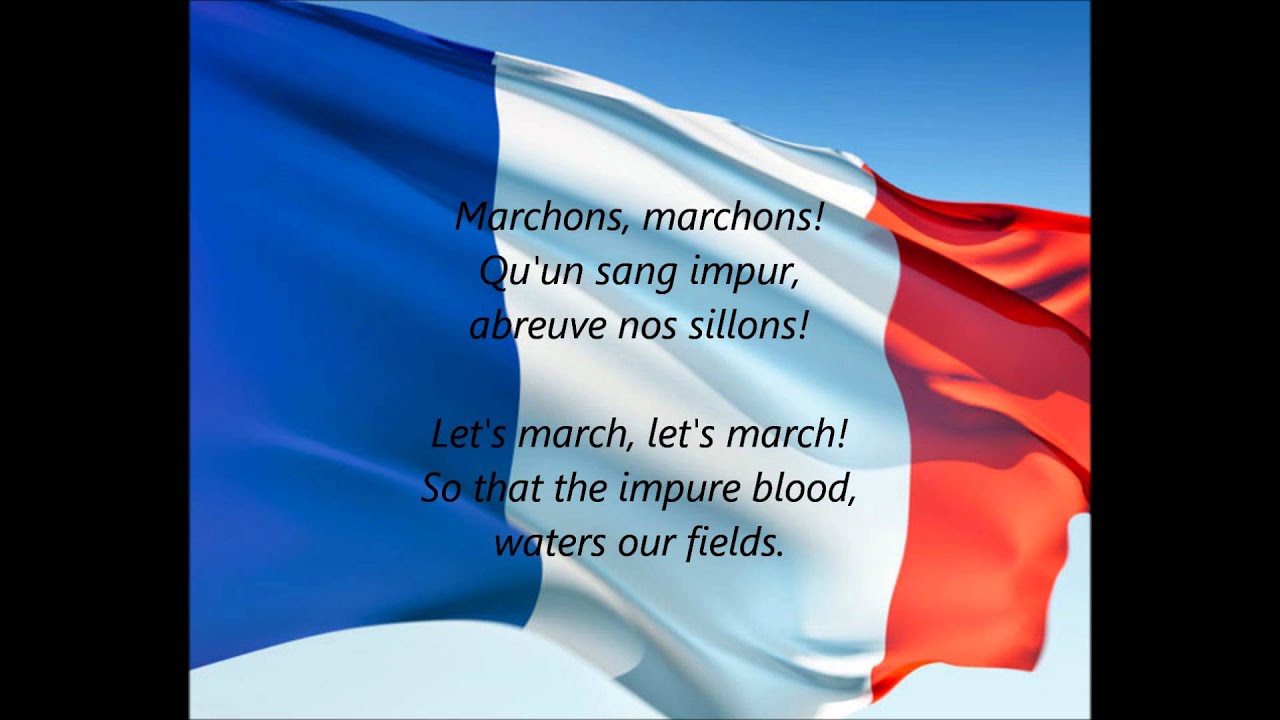 National Anthem of France Information:
| | |
| --- | --- |
| Lyricist | Claude Joseph Rouget de Lisle |
| Music | Claude Joseph Rouget de Lisle |
| Adopted | 1870 |
| Official Language | French |
France National Anthem Lyrics in French:
La Marseillaise
by
Claude-Joseph Rouget de Lisle.
Allons enfants de la patrie,
Le jour de gloire est arriv?
Contre nous de la tyrannie
L'?tendard sanglant est lev?
Entendez vous dans les campagnes,
Mugir ces f?roces soldats?
Ils viennent jusque dans nos bras
Egorger nos fils, nos compagnes!
Refrain
Aux armes, citoyens!
Formez vos bataillons!
Marchons! Marchons!
Qu'un sang impur
Abreuve nos sillons!
Amour sacr? de la patrie,
Conduis, soutiens nos bras vengeurs!
Libert?, Libert? cherie,
Combats avec tes defenseurs!
Sous nos drapeaux, que la victoire
Accoure ? tes males accents!
Que tes ennemis expirants
Voient ton triomphe et notre gloire!
Refrain
Nous entrerons dans la carri?re
Quand nos ain?s n'y seront plus;
Nous y trouverons leur poussi?re
Et la trace de leurs vertus.
Bien moins jaloux de leur survivre
Que de partager leur cercueil,
Nous aurons le sublime orgueil
De les venger ou de les suivre!
Refrain
---
France
National Anthem Lyrics in English:
Ye sons of France, awake to glory!
Hark! Hark! the people bid you rise!
Your children, wives, and grandsires hoary
Behold their tears and hear their cries!
(repeat)
Shall hateful tyrants, mischief breeding,
With hireling hosts a ruffian band
Affright and desolate the land
While peace and liberty lie bleeding?
CHORUS
To arms, to arms, ye brave!
Th'avenging sword unsheathe!
March on, march on, all hearts resolved
On liberty or death.
Oh liberty can man resign thee,
Once having felt thy gen'rous flame?
Can dungeons, bolts, and bar confine thee?
Or whips thy noble spirit tame?
(repeat)
Too long the world has wept bewailing
That falsehood's dagger tyrants wield;
But freedom is our sword and shield
And all their arts are unavailing.
CHORUS
FOR LATEST ENGLISH SONG LYRICS CLICK HERE.
---
Note: If you find any mistakes in the lyrics, Please let us know below comment section. We will very thankful to you guys. Do you believe 'Sharing is Caring'? If you Believe than please share these lyrics with your friends, family members and also with your loved ones so they can also enjoy it.