Cambodia National Anthem Lyrics – Download Free Lyrics PDF & Ringtone Here
"Nokor Reach" (Khmer: បទនគររាជ, 'Royal Kingdom or Majestic Kingdom') the national anthem of Cambodia; it is based on a Cambodian folk tune and was written by Chuon Nath.
Here One can find Cambodia National Anthem Lyrics Pdf, National Anthem of Cambodia Lyrics in Hindi & English, Cambodia National Anthem Ringtone, Cambodia National Anthem Mp3 Download.
Cambodia National Anthem HD Wall Paper Free Download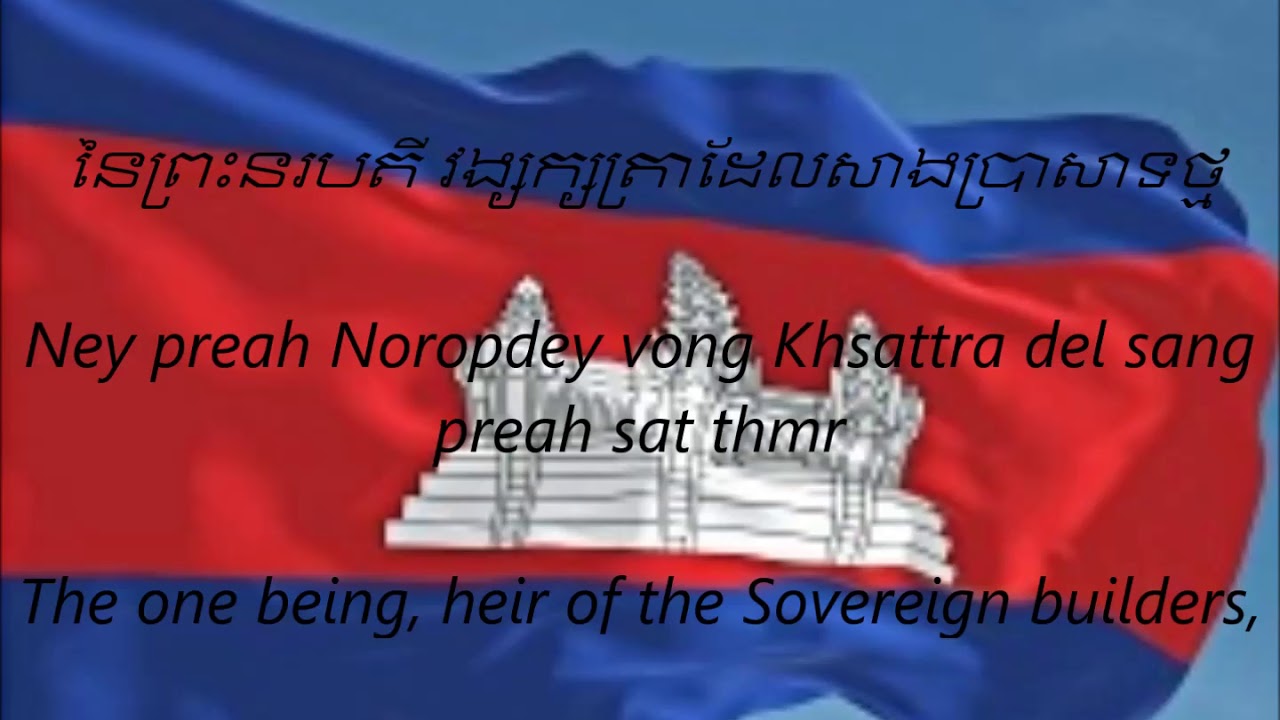 National Anthem of Cambodia Information:
| | |
| --- | --- |
| Lyricist | Chuon Nat |
| Music | Norodom Suramarit / F. Perruchot / J. Jekyll |
| Adopted | 1941 |
| Official Language | Khmer |
Cambodia National Anthem Lyrics in Khmer:
សូមពួកទេព្តា រក្សាមហាក្សត្រយើង
អោយបានរុងរឿង ដោយជ័យមង្គលសិរីសួ⁠ស្តី
យើងខ្ញុំព្រះអង្គ សូមជ្រកក្រោមម្លប់ព្រះបារមី
នៃព្រះនរបតីវង្ស ក្សត្រាដែលសាងប្រាសាទថ្ម
គ្រប់គ្រងដែនខ្មែរ បុរាណថ្កើងថ្កាន។
ប្រាសាទសិលា កំបាំងកណ្តាលព្រៃ
គួរអោយស្រមៃ នឹក⁠ដល់យសស័ក្តិមហានគរ
ជាតិខ្មែរដូចថ្ម គង់វង្សនៅល្អរឹងប៉ឹងជំហរ
យើងសង្ឃឹមពរ ភ័ព្វព្រេងសំណាងរបស់កម្ពុជា
មហារដ្ឋកើតមាន យូរអង្វែងហើយ។
គ្រប់វត្តអារាម ឮតែសូរស័ព្ទធម៌
សូត្រដោយអំណរ រំឭកគុណពុទ្ធសាសនា
ចូរយើងជាអ្នក ជឿជាក់ស្មោះស្ម័គ្រតាមបែបដូនតា
គង់តែទេវតា នឹងជួយជ្រោមជ្រែងផ្គត់ផ្គង់ប្រយោជន៍ឱ្យ
ដល់ប្រទេសខ្មែរ ជាមហានគរ។
---
Cambodia
National Anthem Lyrics in English:
May the Devas save our king
To grant him happiness and prosperity
We, his servants, wish to refuge under his completeness
Of sovereign's line, ones being to build temples
Reigning over old Khmer's glorious land.
Temples of stone, hidden amid forests
Bethought of the mighty Maha Nokor's triumphs
Khmer race stands tough and solid as eternal stone
We pray for the best upon Kampuchea's destiny
A grand nation've ever occurred for.
Dharma risen, up from monasteries
Chant with joy, commemorate of Buddhism
Let us be faithful to our ancestors' belief
Assuredly, Devas will grant its bounty
Toward Khmer's, the grand nation.
FOR LATEST ENGLISH SONG LYRICS CLICK HERE.
---
Note: If you find any mistakes in the lyrics, Please let us know below comment section. We will very thankful to you guys. Do you believe 'Sharing is Caring'? If you Believe than please share these lyrics with your friends, family members and also with your loved ones so they can also enjoy it.